Private Member Association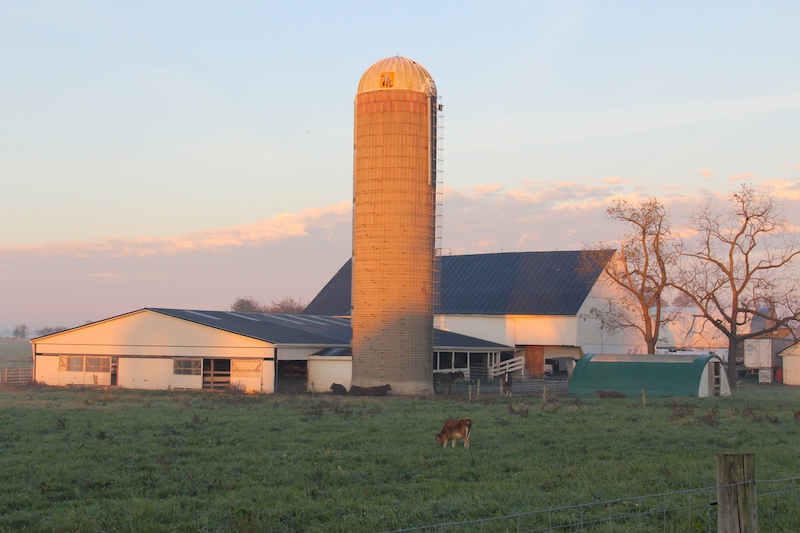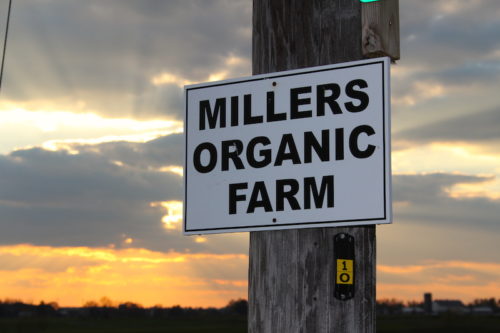 A message to members from the Farmer,  Amos Miller:
Back in the year of 2000, farmer Amos Miller and his dad attended a conference where Sally Fallon, president of the Weston A Price Foundation, gave an excellent speech on the importance of eating healthy food which was the start of where we are today.
We enjoy good ol' farming the natural way.
The cow dairy is raw and from mostly Jersey cows that are fed NO GRAIN – strictly grass-fed during the warmer months – and hay fed during the winter and milking times – as well as a free choice smorgasbord of minerals to maintain a healthy balanced diet.
We are in the process of slowly converting our herds to the better heritage A2/A2 breed which confirms the protein level in the raw milk. We work closely with several other local Amish farms to help us supply the demand of fresh cow milk and cream and we all share the same conscientious grain-free down-to-earth standards.
We regularly test all of our raw milk for bacteria, Coli form and pathogens, via somatic cell count, the (SPC) Standard Plate Count and other various tests to ensure the safety of our raw milk.

The Beef cattle too are strictly grain-free, mostly Red Devon and Angus crossbreeds.
At the moment we have 30 Water Buffalos. They are strictly grass fed and they produce award winning, A2/A2 certified, rich dairy products and raw buffalo cheese. Certain cuts of Buffalo meats and organs are available, as well.
All of our goat and sheep dairy and cheeses we offer are raw and mostly grass-fed.
We don't have our own goat and sheep on our farm but the Amish farms we work with are local and practice the same natural farming methods. We also have a variety of goat/lamb and mutton meats and organ meats available, as well.
Yes, we are milking our own camels and providing raw milk as a valuable natural medicine for autism, diabetes, intestinal health and immunity.
Consists of chicken, turkey, smoked turkey, duck and goose.
We are happy to say we can provide all of our poultry as free-range, GMO-free, SOY-FREE and during the warm summer months they also eat insects which is a great source of protein for any poultry as they scratch and peck in the pastures of their natural habitat.
We only have soy-free chicken and duck eggs.
All of our "occasionally" available Veal is entirely milk-fed and grass-finished. We try to keep veal in stock, but the cost of growing a fat veal is quite expensive due to the amount of milk they consume, therefore we might be "out of stock" at times and may substitute for beef unless you specify "no substitution".
Pastured Pork     
Our pastured hogs are fed a mostly milk-based ration of whey from cheese making, and organic oats – soaked in raw skim milk and a bit of our GMO-free, heirloom corn. Some folks say our hogs eat a "cleaner" diet than most Americans! We grow the heritage breed of pigs which is known to be quite a bit more fatty, such as Tamworth or Old English Blacks. But due to their diet, they produce award winning tender and flavorful meats.
The hams and bacon are cured, salted, and smoked without adding any sweeteners.
Coming from the clean rivers in Alaska – we carry wild salmon and Icelandic haddock.
We bake our bread traditionally in small batches with sourdough and soaked grains and also have sprouted spelt bread available. The muffins are gluten-free and also baked here at our farm as well as sprouted grain shoo-fly pie, angel food cake and gluten-free coconut cookies. We have spelt noodles and sprouted spelt noodles.
Taste our healthy beverages: cabbage juice, kimchee juice, daikon radish juice, apple cider, grape juice, lemonade, ginger ale, kombucha, cranberry kombucha, and beet kvass. Sourdough kvass comes from Canada.
The pure and authentic Olive oil comes from a Family Orchard in Greece and their century old olive trees. The cold pressed, virgin coconut oil comes from the Philippines and our raw, fermented Coconut oil comes from Samoa. We carry the Rosita Brand cod liver oil and the full line of Green Pasture supplements such as coconut ghee, cod liver oil, butter oil and skate liver oil.
The maple syrup comes from Vermont and it is processed with natural procedures. Raw honey is collected locally and we also carry the brand Really Raw Honey from Maryland.
The nuts are prepared as recommended by the Weston A Price Foundation for better digestion. We buy all the organic nuts raw and then soak them 12 hours to remove phytates and enzyme inhibitors. We are not always able to buy domestic raw nuts, therefore we do use imported raw organic nuts for the cashews, pumpkin seeds and Brazil nuts. The peanut and cashew butter is also made locally with soaked nuts. The soaked granola cereal has raisins and almonds.
Most of the produce is grown locally here in Lancaster County, PA and always chemical-free, processed here on the Miller's farm. We always use only Celtic Sea Salt, raw whey or Apple cider vinegar. Fermented veggies are excellent for digestive health of the entire meal.
Try these delicious items such as sweet potato chips and the Amos brand potato chips – made from our own pork lard and local chemical-free potatoes. We also have a local cheaper Zerbe brand chips made with conventional lard and potatoes. Egg custard, ghee, mayonnaise, honey mustard, salsa, pumpkin and zucchini bread are some of the other items that we prepare here at the Miller farm.
Around here, we are living off our land and our members do the same. All animals are born and raised on the same farm and they live a stress free life out on pasture. We can trace our foods and we grow everything as nature intended – brimming with nutrients, in rich soil – AND the quality is the best it can be.
We care a great deal about the "FOOD" our "FOOD" is eating and the soil's quality – which is ultimately the starting point to grow high quality, nutrient dense food.

Our foods are grown for members who belong to our "Private Member Association", ONLY!
Here is a list of ingredients for some of our products we offer. The farm is preparing and growing our foods according to the Dr. Weston A. Price principles.
Please continue reading how we raise your food… here