Raw Butter and Coconut Oil Fudge Bars
October 8, 2019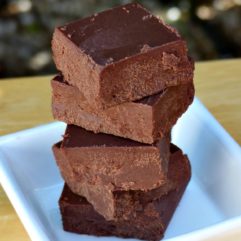 This coconut oil fudge recipe is made with healthy natural ingredients like coconut oil, cocoa powder, raw honey (stevia can be used if you prefer) and vanilla extract. That's it!
Raw cocoa powder can be used in place of regular cocoa powder and fermented coconut oil can be used in place of virgin coconut oil (some do better with fermented coconut oil, because it's easier to digest). Add a few drops of peppermint essential oil or 1/2 teaspoon of peppermint extract for delicious mouth-watering peppermint fudge.
 Directions:
1/2 cup of raw Butter and 1/2 cup coconut oil
1 cup of cocoa powder
1 Tablespoon of vanilla extract
1/2 to 3/4 cup raw honey (or other natural sweetener like maple syrup or stevia)
Pinch of celtic salt
Optional: 2-4 drops peppermint essential oil
Measure 1/2 cup of coconut oil and 1/2c softened butter and scoop it out into a mixing bowl.

Whip with a stand or hand mixer until it's light and
fluffy. Mix the whipped coconut oil/butter with the vanilla and salt.

Slowly add honey or sweetener of choice. Taste as you go to make sure you don't over sweeten your fudge. Mix in 2-4 drops of peppermint essential oil if using. You can use organic extract instead if you prefer.

Pour fudge into a 9×5 inch pan. Spread fudge evenly cover the pan with a lid or plastic wrap.

Refrigerate until fudge is set and hard, about 4 hours.

Cut fudge into small squares and serve.
Enjoy!